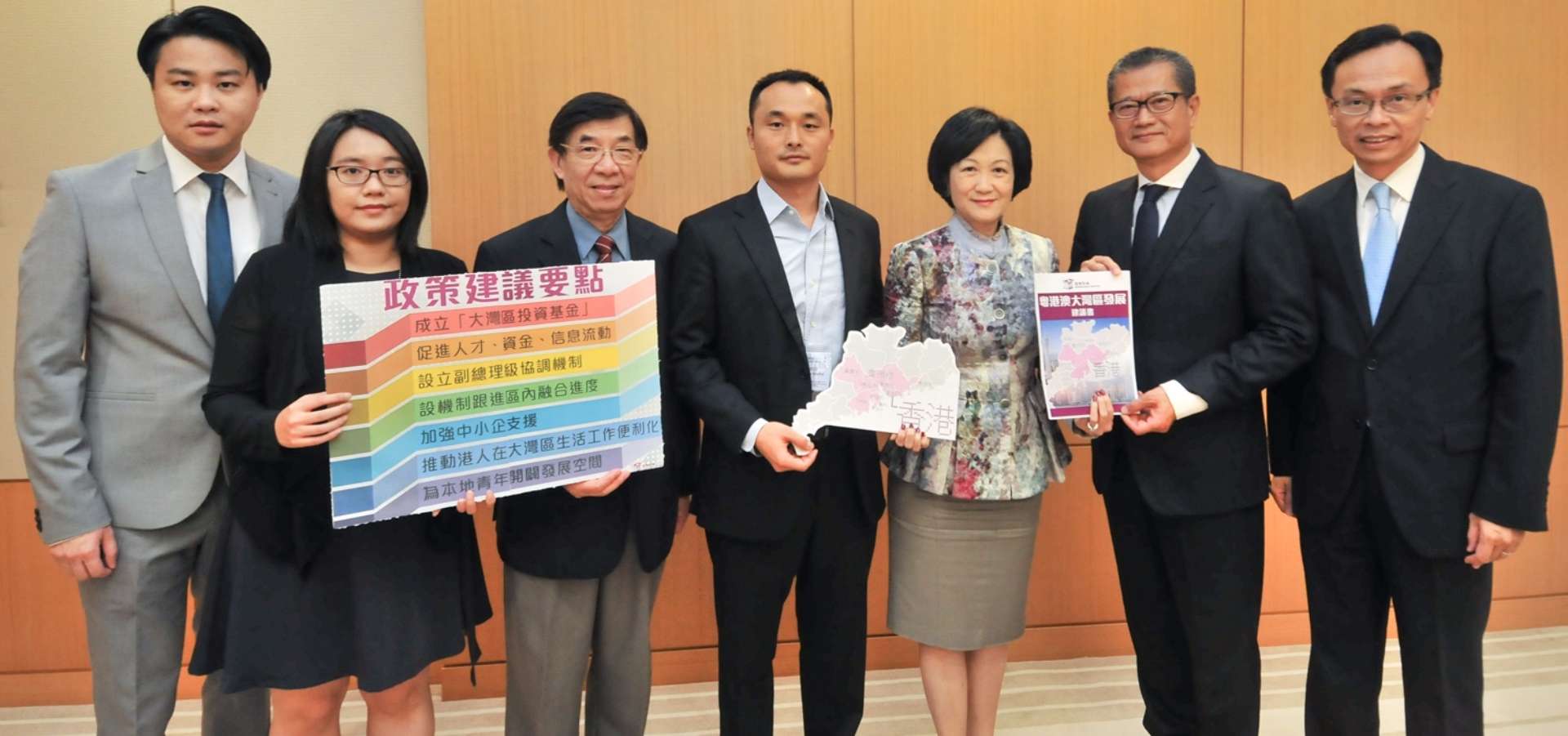 Greater Bay Area Development Proposals
Towards a more open and integrated region
Click here for the full report in Chinese

Over more than a decade, there has been a lot of discussion about how to move forward with the cooperation within the Pearl River Delta region. Although some progress has been made with measures such as CEPA, barriers to the flow of people, capital, information and goods, arising from the institutional differences among Hong Kong, Macao and Guangdong, still remain as a major issue. In March this year, the development of Guangdong-Hong Kong-Macao Greater Bay Area was mentioned in the premier's annual report. The goal of the initiative is to break down the aforementioned barriers within the region and to make the region a more open, innovative, integrated and liveable area. Hong Kong, Macao and the nine Guangdong cities will benefit immensely if the tremendous economic potential of the area can be unleashed.
In August, Savantas Policy Institute organized ten focus groups gauge views from 215 people representing sectors ranging from financial services, technology, legal and accounting services, construction and surveying, creative industries, trade and industry, tourism, to logistic, transports and shipping. We engaged the Institute of Guangdong, Hong Kong and Macao Development Studies of Sun Yat-sen University in the process. Savantas went on to conduct in-depth interviews with government officials and business leaders in September to gain insight into the current development of the area and explore the feasibility of various proposals.
On 10 October 2017, Savantas presented the Greater Bay Area Development Proposals to the Financial Secretary Mr Paul Chan and the Secretary for Constitutional and Mainland Affairs Mr Patrick Nip. Our report covers expectations of Hong Kong's various sectors for the Greater Bay Area and difficulties they encountered, and makes corresponding recommendations. The key recommendations are as follows:
Establish "Greater Bay Area Development Fund": engage the business sector in setting up a "Greater Bay Area Development Fund" (the Fund) and invest part of the Exchange Fund (e.g. the Land Fund) in the Fund. The Fund could be used to purchase land with high development potential at low prices, or acquire land owned by Hong Kong manufacturers who plan to close down their operations. The Hong Kong government should seek to change the land use by paying a land premium for development of new industries as well as living communities for Hong Kong people.
Promote flow of people, capital and information: introduce the dual-account structure in Guangdong Free Trade Zones or allow eligible cross-border enterprises to set up cash pool offices for cross-border capital flow; lower tax rates for Hong Kong corporates or individuals in selected industries in Mainland to 16.5% and 15% respectively; provide flexible visa application arrangements for employees of eligible companies which invest in Hong Kong in selected sectors and create a required number of jobs for local people; explore mechanism which allows Mainland operators to store data in Hong Kong's data centers in compliance with Article 37 of China's Cybersecurity Law.
Create vice-premier-level coordination mechanism: set up a coordination mechanism headed by a vice-premier-level official in the Central Government to coordinate relevant ministries and municipal governments for effective policy implementation.
Create task forces for specific areas of cooperation: set up task forces led by relevant policy bureaux in Hong Kong government to work closely with the industry to follow up on measures to promote development of various sectors and the flow of people, capital, information and goods; submit opinions collected to the Central Government through the Chief Executive.
Strengthen support to SMEs: increase resources and manpower of the Hong Kong Economic and Trade Office in Guangdong and set up a SME support division under the office to strengthen support to Hong Kong SMEs in the area, liaise with relevant departments in other cities, proactively help SMEs to increase productivity and expand their market, and help manufacturers to integrate resources and upgrade themselves.
Facilitate working and living in the Greater Bay Area: seek national treatment for people in professional services, tourism, logistics and other sectors; develop living communities for Hong Kong people; encourage export of health care, elderly care and education services to the area; relax the residence requirement for social security allowances.
Create opportunities of Hong Kong youth:develop a Greater Bay Area Internship Program to encourage Hong Kong-based large enterprises to provide internship opportunities in the area; increase cultural and sports exchanges, for example by organizing cross-border cycling competitions and supporting cross-border performances by art groups.